Thornton's Jazz Recipe For A Perfect Wine Country Experience...
By Ken Barnes For "Temecula Night Out"
Make Sure to Scroll Down For the Slide Show Below...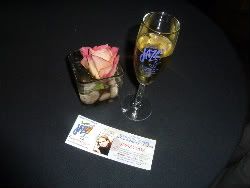 When entering Temecula's beautiful wine country on Rancho California Road. the first sight most visitors become aware of is the majestic old world scene that is Thornton winery. It greets them with a picture postcard view and if they are wise enough to stop in they will find they are in for a unique treat unlike any other in all of our local wine country.
"Temecula Night Out" recently had the opportunity to spend some very special time there at the opening of their 23rd annual "Champagne Jazz" concert series. Quite simply when it comes to all things vining, dining and entertaining, (something very close to our heart) no one does it better then the caring people of Thornton.
Starting with owners John and Sally Thornton and their son Steve, Thornton's President, all the way thru the rest of their staff you quickly come to be aware that it is they the people who make this place so special. As Steve noted "They all have in common the realization that in many cases, theirs (Thornton's) is a visitor's first experience of what our wine country may offer. With this premise in mind, everyone you will meet there is committed to setting the highest standard for what they can provide to their guests in ensuring they receive an enjoyable and memorable time and they all set the bar very high indeed for the rest of wine country.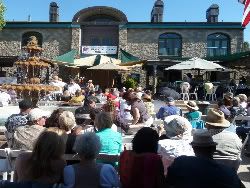 From the crackling fireplace during our cold winters...lol in the "Champagne Lounge" tasting room to its wonderful elevated outdoor patio so welcoming when its warmer and its exclusive table side service, (no standing around a wine bar here) to their highly acclaimed 5 star gourmet restaurant "Cafe Champagne" below with the hands on talent of Executive Chef Steve Pickell its all here! And of course their award winning Champagnes and wines, (Temecula's first true "Methode Champenoise" winery) Thornton genuinely offers it all and at a quality level that is unsurpassed anywhere.
With all of this firmly in place, it is only fitting and appropriate that when it comes to entertainment that once again they lead the way, (truly the icing on their many layered cake). The beginning of Thornton's "Champagne Jazz" concert series truly is the kickoff of the season here. Internationally acclaimed artists travel to and look forward every year to playing this spectacular venue. Starting in late April or early May thru October residents and visitors alike are treated to the very best their talents can offer. The first concert of a new season is always special here, yet this one was truly exemplary in every aspect. Firstly, the weather couldn't have possibly been better for this event if even as Steve Thornton had said "we had been able to custom order it".
In keeping with the graciousness and demeanor that is all things Thornton, "TNO" along with other representatives of the media were privileged to witness the best of Thornton in action. We were invited for and got to experience the evening from a different perspective. However, it was readily apparent to all of us that on differing levels the hospitality and quality that was so kindly showed to us is what Thornton only does every day for all its guests. Our day started by being initially greeted by Thornton's consummate public relations director Linda Kissam.

We made our way into Thornton's Champagne caves and thoroughly enjoyed a reception featuring the finest in tiny bubbles and palate pleasing appetizers where we got to meet with John, Steve, Chef Pickell, their extremely gregarious and knowledgeable winemaker David Vergari and yes, Jesse Cook their first artist to be performing in this year's series. It was a pure delight to do so and while we were doing this little meet, greet and picture taking session the day's guests were entering and starting to take their seats.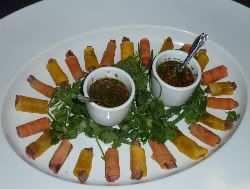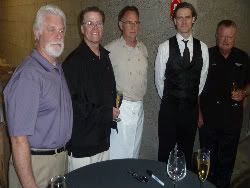 Concert goers are either able to enjoy the evening in reserved seating while being offered Thornton's best in wine and Champagne along with selected food pairings from their jazz grill or pre-made items for their convenience. Full supper packages offer an even higher level of service with a complete gourmet wine and food pairing experience that blends perfectly with the entertainment provided while Thornton's seasoned staff is readily available to attend to their needs.
"Champagne Jazz" is held most Saturdays and many Sundays throughout the season and this year will run the gamut from such talents as Mindi Abair, Dave Koz, Herb Alpert, Boney James, George Benson, Chris Botti and many others. This rich schedule offers without a doubt something for everyone regardless of your taste in music. This evening however was all about Jesse CooK and his evening it was. He literally grabbed and held the audience in complete attention and even rapture with the incredible notes of his flamenco guitar. From the moment he started percussion tapping on his guitar's body and the violinist next to him slowly with increasing volume joined in everyone knew this was going to be all about pure entertainment.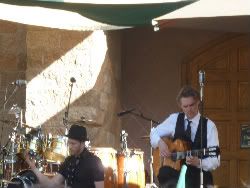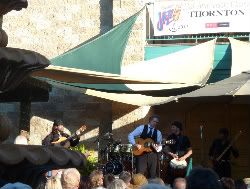 As remarkable and truly excellent an artist as Jesse is, what was even more surprisingly pleasing is that he is truly an overall entertainer as well, fully interacting with his audience throughout the entire program. His narratives from his "journals of the road" as he called them were simply delightful. He made his music real and affecting by relating where in his life and soul it had, had its origins. From living the high jet set life in Columbia to "lowly schlepping" as he put it his gear in Ireland he wove a rich tapestry of where his musical genius and inspiration comes from. At one point he even against all normal protocol invited the audience to take pictures and videos of him while he took them back, way too much fun!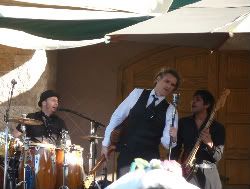 While all of this was going on an absolutely delectable gourmet dinner was being served with each course having its perfect wine pairing as the sun started to fade the day away to the tunes of his music. The atmosphere was truly charged and the entire sold out crowd would sometimes spontaneously clap to his rhythms, stand and sway and yes, at one point some even made an impromptu dance floor out of the Thornton patio and moved their feet to the sound of his Latin beat. In testament to how smooth and professional it all went, it all seemed to be over with way too soon even though he played for two and half hours with three encore selections including amazingly enough a little Simon and Garfunkel thrown in as well.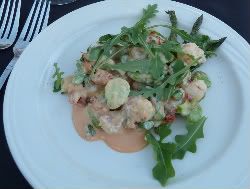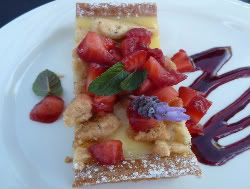 It was a late afternoon, early evening of delectable wines and champagne, superb culinary treats, incredible weather, memorable conversations with delightful dinner companions, one such was with Steve Thornton and his beautiful girlfriend Denise sharing his belief that "regardless of anything else we may offer it is our people that make this place so special", he related how many of their staff have been with them for years if not decades and it shows! Around it all framing everything full circle making it whole, was the wonderful music richly filling the air.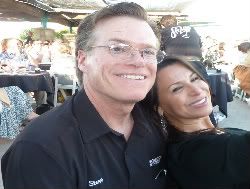 There are of course no lack of recipes for a wonderful experience in our wine country with all of the variety and flavors it offers its visitors. However, Thornton seems to have truly perfected theirs, and as simple as it may seem, it is very profound.
Start with a beautiful and unique setting, thoughtfully add in the finest of wines and Champagnes, over a period of time blend in with the most delectable of culinary delights, stir with a pinch of incomparable weather, then mix it all with a variety of people both serving and enjoying and finally top it all off with a generous helping of pure entertainment. Present and serve with a singular successful goal of offering immense satisfaction to all and then simply savor and enjoy!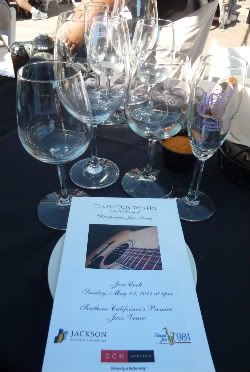 Click HERE To Visit Thornton Winery...
Click HERE For Thornton's "Champagne Jazz" Schedule For 2011 And To Buy
Tickets...
Click HERE To Meet Thornton's Executive Chef Steve Pickell...
Comments