Make Sure To Watch Ginger Baker-Giordano's
"Happy Trails Thru The Vineyards" Video Below...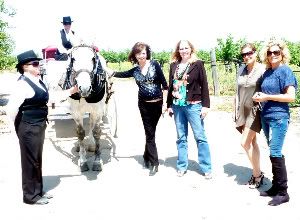 Charmed Through The Vines By Horse And Carriage...

by Howard Kotliar And Ken Barnes
As great as it may sometimes seem to have well laid out plans and to be looking forward to them... There are those spontaneous opportunities that occasionally come along and that when taken advantage of can create truly "Magical and unforgetteable Moments" in our lives.
This is exactly the situation I found myself in one recent Sunday, when I received a spur-of-the-moment phone call from a colleague. He was calling to tell me that he couldn't make an invitation he had received and was informing me that I had to be at
Wien's Family Winery
in forty-five minutes for a carriage ride through the vines being offered by Marika Vierling of the Temecula Carriage Company.
Upon my arrival I was warmly greeted by Marilyn Tipps of Taste of Temecula, Sue Richter a national writer and book author, Ginger Baker-Giordano of Wine Chixs and Debbie Israel Wiens of Wiens Winery, most of whom I was meeting for the first time, (
I was honored to be part of this talented, intriguing and very interesting group
). With the sight of these four woman in front of me, it then occurred to me that I was going to be the only guy on this excursion!
My next thought was...WOW,
This is going to be a great day!
These four delightful women took me into their company and made me feel very quickly like we were all one tight group that had planned out all of this long before.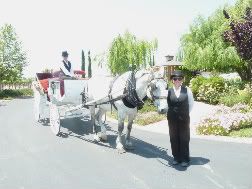 As we approached Marika's beautiful old world coach which was being drawn by her statuesque horse Cotton, the sight awaiting us was absolutely breathtaking. Marika and her assistant Lauren Higgins were dressed to the tees in tuxedo attire and exquisite top hats, an attire and atmosphere that made for a very formal and valued feeling from their guests, (William and Kate had nothing on us)...LOL. The sight was nothing short of a Disney photo opportunity! We then started to realize we were in for something very special not to be found anywhere else in our area!
After posing for a few pictures we all stepped up into our enchanting and awaiting coach with it's extremely comfortable plush velvet seating offering more than enough room for the five of us. Marika, Lauren and Cotton then started our experience of touring through the back vineyards of
Wiens
,
Ponte
and
South Coast
Wineries.
As we made our way down the empty back roads through the vines, a remarkable sight was awaiting us in the distance, as we drew closer it resolved into an elegant Gourmet Cheese, Fruit and Wine Tasting Pairing spread out before us awaiting our arrival. Set on an elegant table by the guard house was a sumptious array of cheeses, flat breads, fruits, and preserves along with a bottle of Wiens 2008 Reserve Tempranillo-Petite Sirah that had all been paired perfectly together beforehand. This setting, feeling and experience was only just the beginning of many special, unforgettable and yes, charming moments that were felt by all on this glorious day. This beautiful repast set the tone for the day as we were all truly delighted, surprised and charmed by what we were and would experience. Many thanks go out to Dale Hagen for preparing and hosting such a perfect and thoughtful pairing and for what would turn out to be a grand finale surprise awaiting us at the end of our red carpet journey.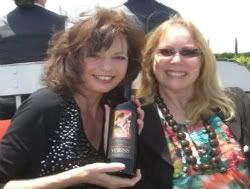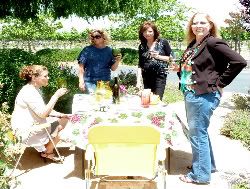 As our trek continued, we came upon and rolled thru a set of expansive wrought iron grape lined gates that seemed suddenly to mystically open on their own before us providing what almost felt like a fantasy experience. They were allowing us entrance to the seldom traveled back side of the vineyard beauty that is Temeculas Wine Country with its view of the mountains beyond.
For the next hour and a half (which truly felt like just minutes) we all laughed, conversed, took photos and relished in the views and panoramas that none of us had ever seen from this "Carriage" perspective before. Our horse drawn carriage took us to Ponte and South Coast Wineries "The Back Way" as only a carriage can do. After enjoying those two stops with more pictures we then headed back to Wiens with even more laughter and good times still to come.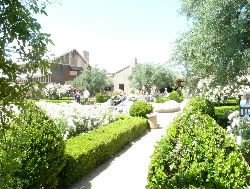 To all of our surprises, waving in the distance as we approached, was Dale Hagen welcoming us back to Wiens. She was awaiting us with a gourmet white chocolate covered strawberry cake. It was oh so luscious and good! She had created an entirely new table setting and look for this "Welcome Home" dessert and yes another wine pairing to mate with it. This delicious cake was paired with Wiens Viognier that had just the right hints of apricot and pear and which harmonized wonderfully with the strawberry and chocolate of the cake as it danced and blended on our tongues and palates.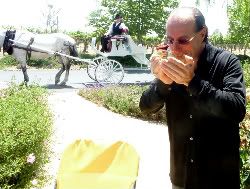 As we all enjoyed our dessert together we "Cheered" each other and in a toast clicked our glasses in thanks to Marika, Lauren, Dale and Cotton for creating, hosting and providing us with an afternoon of many "charmed and magical Moments", a different and unique perspective we had enjoyed and you can enjoy in the vines that will last a lifetime.
This 45 minute notice of change of plans had resulted in a wonderful, rare and special day that all of us will long remember with very fond memories and served to remind me once again that "everything happens for a reason" and that sometimes we just have to let go and let be and see what life serves up to us....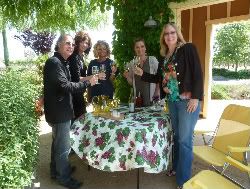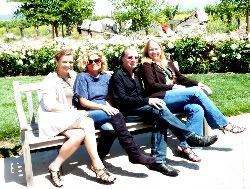 Marika and The Temecula Carriage Company await you with this unique "Experience" of the beauty of Temecula Wine Country. All of this for your enjoyment, while being catered to, from your carriage journey's start to finish. You owe it to yourself and that special person in your life to take advantage and make such make "Magical Moments" as these your own!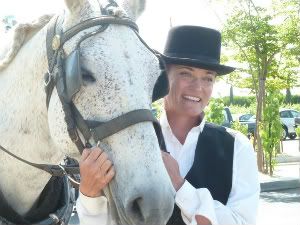 Above Photo courtesy of Ginger-Baker Giordano
Temecula Carriage Company
Website
Marika Vierling 858.205.9161
Comments