The Never Ending Variety That was Harvest Celebration 2011
By Ken Barnes for Temecula Night Out/Day In Temecula
The temps are dropping and the weather is changing, the grape vines are picked bare and have turned into their many hued fall colors as they fall asleep once again waiting to be reborn in the coming year... In Temecula, it's that special time in wine country... It's Harvest. After many non-stop weeks of methodical, carefully planned out and yes also frenzied, sometimes spontaneous and in this years case, (start and stop) action the 2011 crop is out of the fields and into the barrels and tanks where it will make it's own unique journey from grapes to wine.
That means its time to celebrate and that's what this past weekend was all about. The
Temecula Valley Winegrowers Association
,
(TVWGA) twice a year puts on an area wide exhibition of featured wines, paired food and the best in entertainment and special event offers. Fall was definitely in the air as the weekend started crisp, blue and sunny, before it was all over we would see grey, chilly and wet with just about everything in between. Yet even though we experienced many of mother nature's finicky moods, the mood overall of everyone we saw and sojourned with on our self made itinerary was one of, expectation, curiosity, fun and enjoyment. There was just too much going on and to much to do to let a little weather dampen the festivities.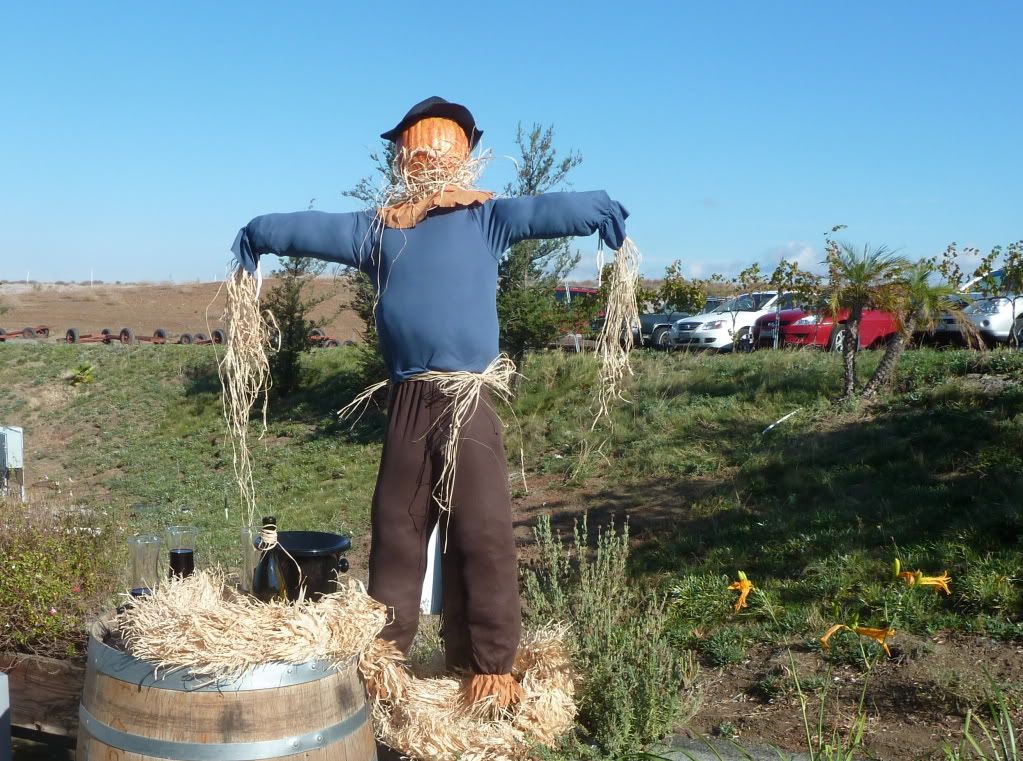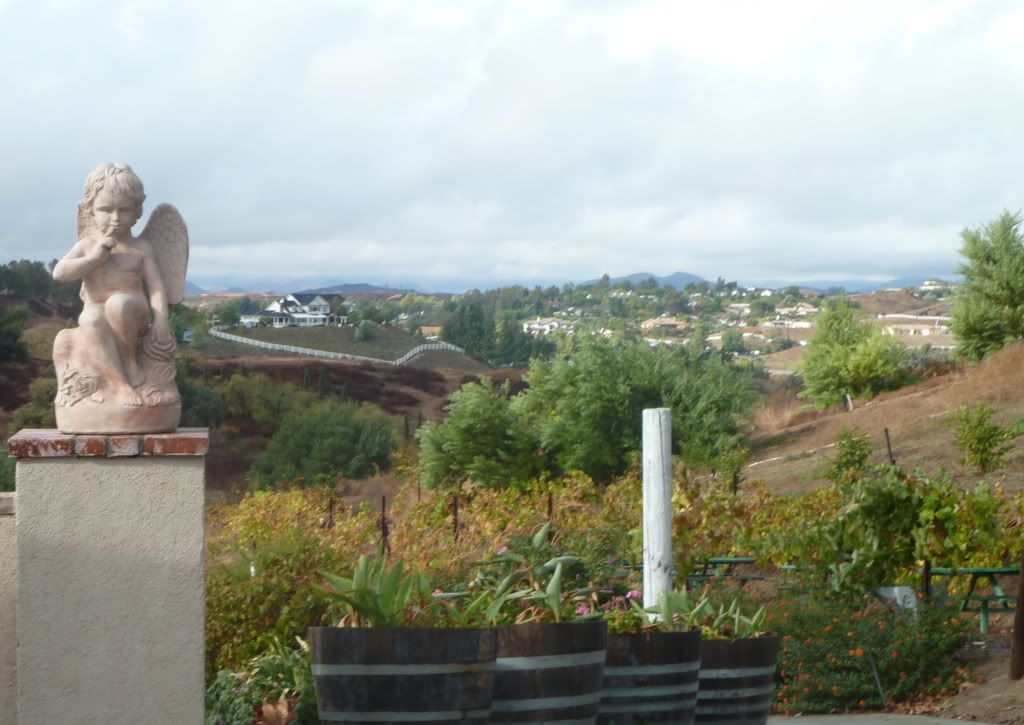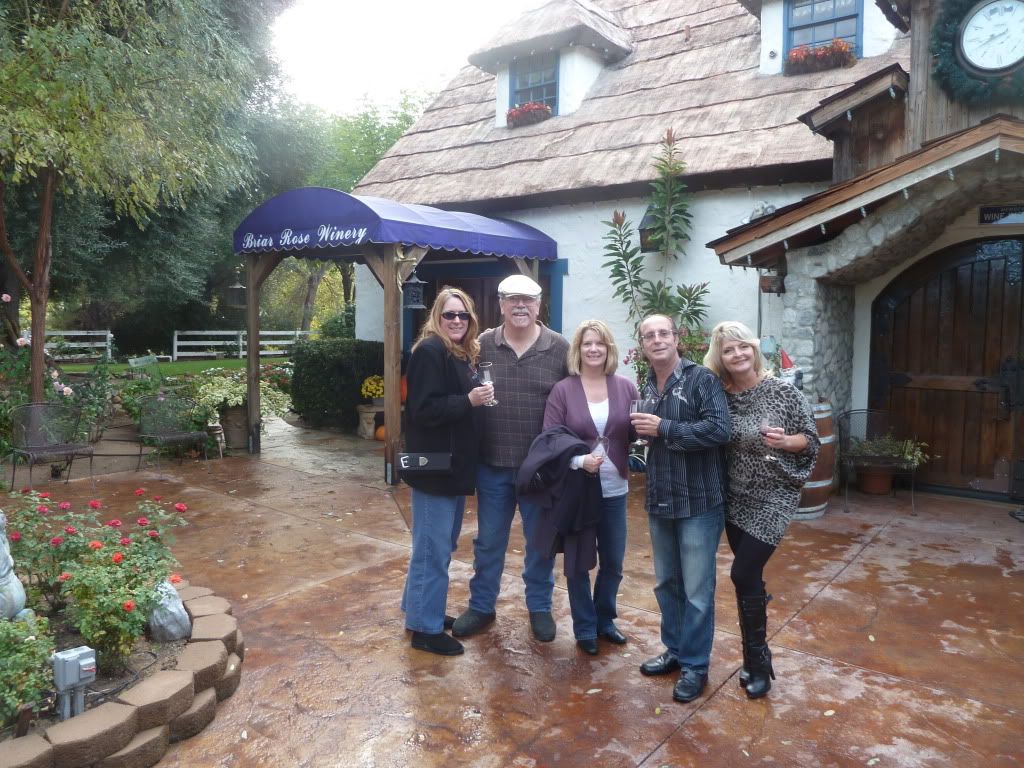 This and the WOW, (World of Wine) weekend in March are a truly special weekend here. For an amazing price, (roughly $3 per) the opportunity is offered to visit over these two days, approximately 34 wineries. At your leisure spending as little or as much time as you like to sample their specially selected wines, many of them still unbottled and out of the barrel that have been paired with wonderful culinary creations.
Our "TNO" group along with part time mascot "Emory IV" checked into
Callaway
right before 10AM on Sat. collected our event glasses and passports and we were on our way. Our first taste was a promising and still beautifully evolving "2010 Estate Syrah" right from the barrel. Keep your eyes open for this next year it's going to be a wonderful example of the Syrah's that Temecula is known for producing.
It was complemented and paired perfectly with a zesty walnut and grape jam bruschetta topped by a smoked pork shoulder "confit" sprinkled with fresh sprouts courtesy of
"Meritage"
Callaways' own well known and well regarded restaurant. And no, I'm not going to go thru every winery we had the pleasure of visiting this past weekend. This however was truly a great start. It set the stage for everything and the wonderful variations we would encounter along the way to getting every single one of the entries on our passports checked off.
Naturally there were highlights, favorites and surprises, (almost all good and some not so good) that made up this memorable time. Above all as always though regardless of the wine, food, entertainment or amazing deals that were being offered, (and such deals there were) it was the human element that made the weekend. From the many smiling, helpful volunteers we checked in with at each stop to the number of winemakers and owners themselves who were enjoying this brief respite from their usual nonstop demands. The many creative chefs who delighted in presenting their food pairings, to of course, the multitudes of fortunate ticket holders some local and known, to those who were visiting, perhaps for the first time, it was in fact the people that maximized the atmosphere and synergy that makes each one of these weekends so unique and unforgettable.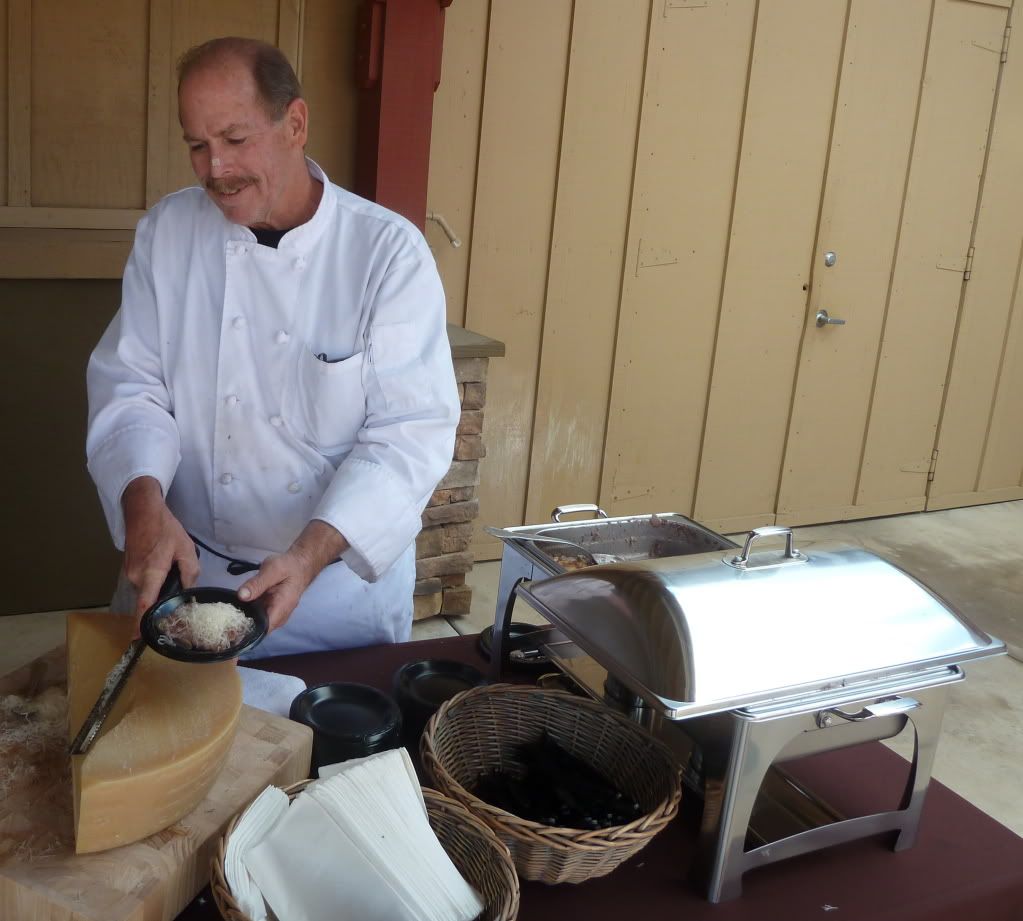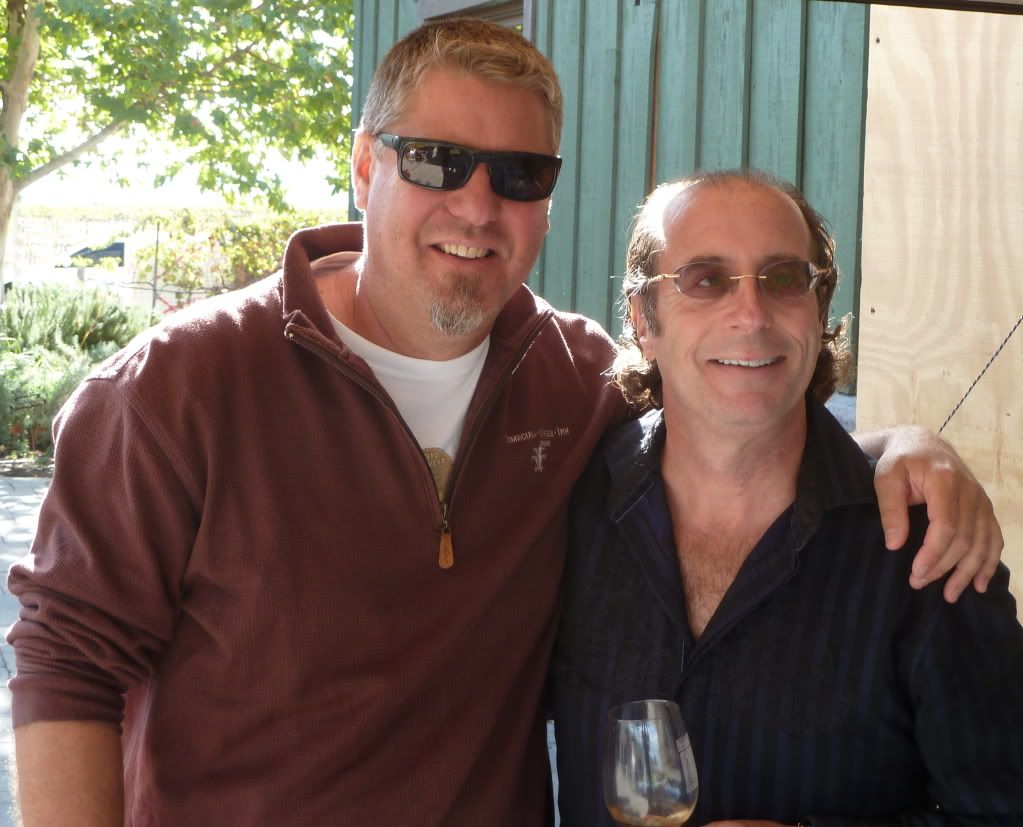 In the many years we have been enjoying these pairing weekends the one thing that continues to stand out in my mind again and again is the evolving and ever progressing quality of our local wines. This was amply demonstrated with the many unreleased and in some cases newly released wines that were being poured over these two days.
Be they reds, whites, desserts or yes even the bubbly, overall the one distinguishing characteristic I noticed was the promise of their unique character and quality that they were offering regardless of whether or not they were still in process or just newly released.
Many of the wineries were also participants in the 2nd annual "Harvest Scarecrow" contest and their creativity, imagination and in some cases sense of humor was on display. We voted for our favorite and it was no easy decision, there were lots of great entries from
Lorimar
Louie to
Hart's
buxom scarecrowess "Jugs" to
Keyways
grumpy to happy to
Baily's
alley menagerie. In fact, it also held true that picking our favorites in wine and food for the weekend was a daunting task as it quickly became apparent how subjective and individual in choice is this art known as wine.
Comments