Wining and Dining Through WOW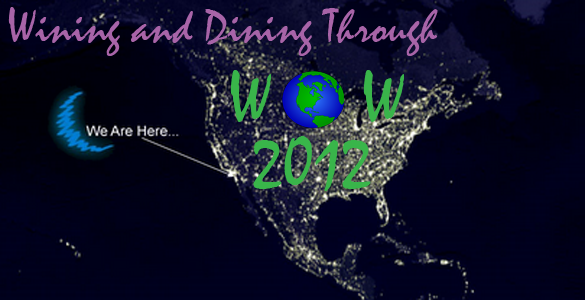 By Ken Barnes for Temecula Night Out
Make sure and scroll to Bottom to watch "Gal Going Grape" Ginger Giordano's great video.
On a recent Temecula Weekend Out, "TNO" once again got to be a part of what is without a doubt one of the premier showcases of our local wine country.
The Temecula Valley Winegrowers Association
,
(TVWGA) twice a year pulls out all the stops and brings out the welcome mat for everyone, near and far to experience the amazing variety that their members offer in a very unique way. The WOW, (World of Wine) event offers a full two days of wining and dining all to be enjoyed at any self set pace be it leisurely or frenetic whichever one may care to set in order to visit some or yes even all of their 34, (this time) members participating.
WOW weekend is in fact a very special opportunity to discover or perhaps rediscover the ever changing scenery and experience that our wineries, many familiar and some new offer up to our visitors and locals alike. This recent weekend was no exception. As we arrived at
Ponte Winery
to pick up our passports and glasses, it felt like full on Spring and what seemed to be a tease of Summer was in the air and was maybe being promised for the entire weekend.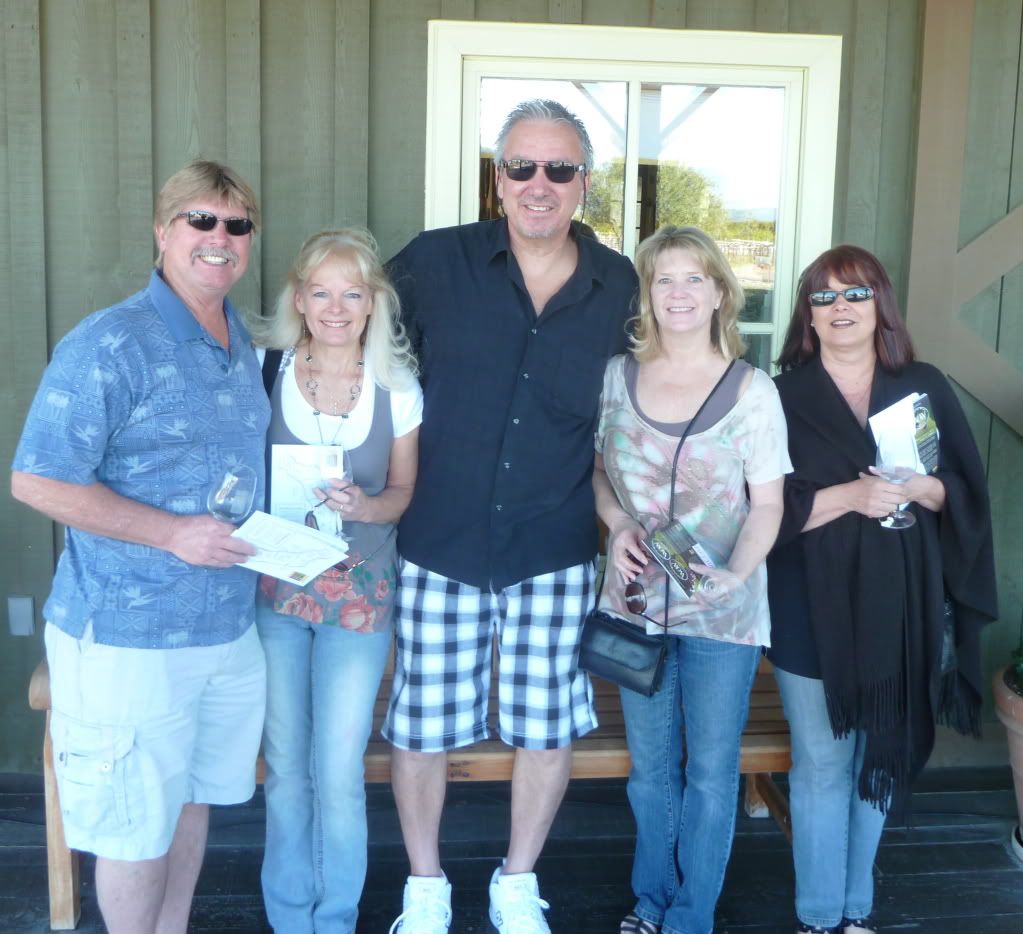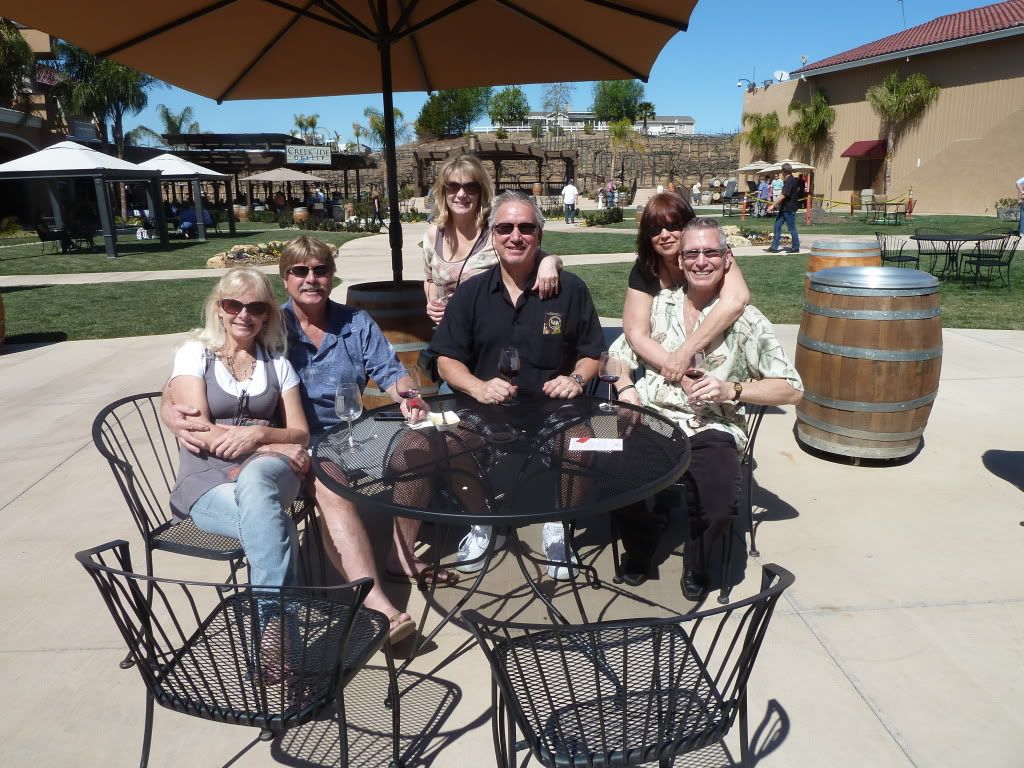 This promise in fact was fully realized and Temecula was on its BEST wining weather behavior for all. This only served to magnify and accentuate all this event had in store. Ponte was fully in the spirit of the event, had opened up its barrel room and I must say they set the bar early for all to aspire to. They offered what turned out to be one of our two most favorite white wines, serving a delightful
2010 Fume Blanc
that was crisp, snappy and full of melon and pineapple with distinct hints of smoke, vanilla and fresh cut grass. A great start, this was paired with a delish lump crab cake drizzled with a yellow bell pepper aioli. BAM, we were off and running! Not to be outdone, their red selection offered up a very tasty and smooth
2008 Syrah
that went wonderfully with their spring Lamb meatball glazed with a mint pesto. WOW, no pun intended, what a start!
Many of the wineries offer up samples right from the barrel, some ready for prime time and others not so much. Our next stop was
Wiens
, where one of their selections was a prime time
2011 Barbera
lusciously dark and full of berries in the nose that the taste did deliver on as it was served from the wine thief. This young vintage does its older
2010
brother proud. It was mated with a perfect chicken and mushroom Orecchiette pasta topped with shaved parmigiana. Again a total win! Wiens offered up a bonus in their tasting room and we tried their newly released
2011 White Crowded
blend which is sure to soon sell out just like it's always popular red version has already done.
Stop number 3, (we were trying to make only right hand turns that day, a good tip by the way for a crowded Rancho Cal road) was one of our always most anticipated stops
Doffo
and they didn't disappoint. Known for their reds they offered two, a
2010 Malbec
from the barrel and a
2010 Zinfandel
, both were stellar. The former awaiting its eager to please release loaded with bright cherry overtones and the latter already available and going quickly, was everything a Zin should be. Doffo had obviously worked long and hard on an amazing Italian Ribollita vegetable soup that they served up. It was presented in a cut as you watched fresh sourdough bread bowl. WOW! (seemed like the right word), this was a hearty, rib sticking full bodied delight that was almost like an Italian goulash and was wonderfully fragrant and piping hot as it was ladled from the cauldron.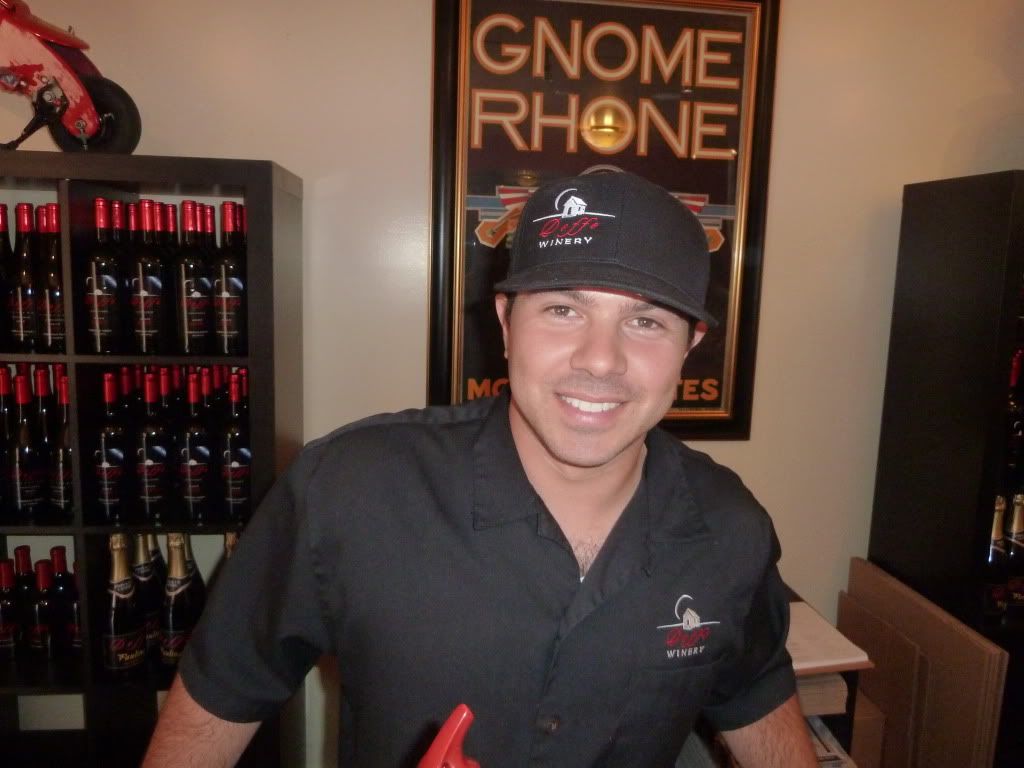 This was only the beginning of what would turn out to be a total of 27 wineries we paid a visit to on this weekend. Following in our footsteps and our achieved goal from last time, was our much respected and appreciated frequent companion on the trail
WINEormous,
(Tom Plant) who ended up as a patron of all 34! He was setting that aforementioned frenetic pace doing his thing which included taking some awesome pics with a brand new Sony camera. I SO wanted to get my hands on that jewel, albeit much longer then I had the opportunity to. Even though we had done that pace previously, we had already decided that wasn't our mission this time.
TVWGA had their always popular and entertaining
"Cork Art Contest"
on display and throughout our travels we were treated to some very imaginative and creative displays of wine cork construction, all to further support wine cork recycling. Many wineries had gone the extra step to create works of art, jewelry and other whimsical items out of which for some were only single and others even hundreds of wine corks.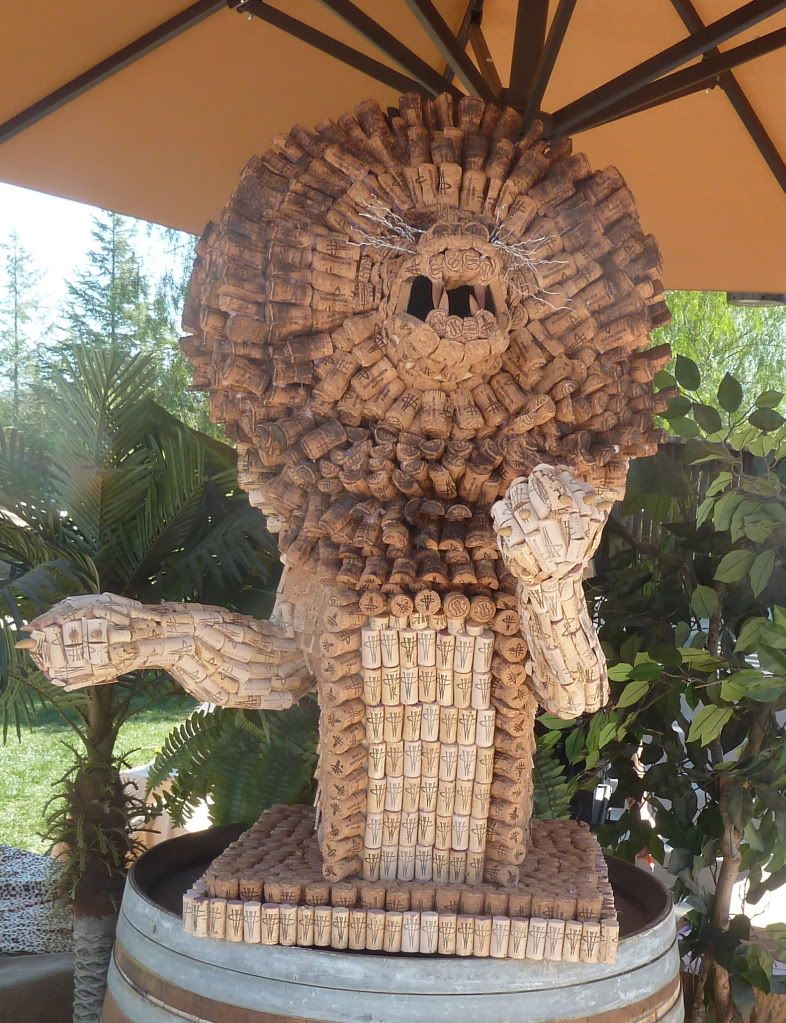 Of course this weekend is not complete with out the variety of live entertainment, extra attractions and specials the wineries offer. Great music was in force all weekend from ex "Stray Cats' guitarist Buzz Campbell at
Wilson Creek
to the always enjoyed
JD Priest
at
Danza
and the premiere with Caleb Frital of what promises to be more music filled Sundays at
Miramonte

.
There was an abundance of extra tastings available along with great sales of wine and gift shop offerings as well. Thanks
Churon
for "Appetizers on Ice".
As we settled into our more relaxed timeline LOL, which would net us 27 visits total, we definitely chalked up our share of highlights along the way. One thing we all commented on and noticed was the abundance of soups that were offered. From the previously praised Doffo meal in a bread bowl to
Vindemia's
simply INCREDIBLE wild mushroom soup medley sprinkled with rosemary, can you say OMG, which was served up with some terrific Cabs, 4 in all and all delightful, soups were everywhere.
One of our newest and surely to be rapidly appreciated wineries
Lumiere
paired a fresh from the East Coast rich tomato Maryland Crab Soup, (actually stew) again so YUM with one of the most unique wines of the entire event. This was an as yet unreleased and freshly bottled Meritage dubbed "2006 Le Cirque". It is a sumptuous blend of Cab Franc, Merlot and Petite Verdot aged 60 months... in French, American and Hungarian Oak barrels. Get it when they've got it because you will probably not see its like again. It had a very smooth, soft, almost late harvest palate to it and paired perfectly with their homemade triple chocolate brownies topped with walnuts. Let me tell you, we hung out here and enjoyed all of this and their beautiful view for a while.
Briar Rose
with its always magical environment, (think Walt Disney meets wine making) was so beautiful this sparkling weekend, no wonder its known as the hidden jewel of Temecula's wine country. This jewel offered up one of the best pairings of the entire weekend with their perfect for spring weather open faced reuben sandwich served alongside crispy potato chips. This was a special very tender and savory Corned beef served on a fresh marbled rye with classic swiss and tangy sauerkraut topping it off, it reached right out and slapped everyone's taste buds and was ummm, ummm good. It also went wonderfully with Les and Dorian's
"We Remember"
Meritage with its deep dark berries and tones of vanilla and mocha on the palate. What a combo!! How wonderful to know that every bottle of "We Remember" goes to help our vets.
The
M Group's
culinary offering at
Danza del Sol
, our favorite eats last time, once again made the top of our list with a simply amazing trio consisting of a Veloute of hot San Marzano tomato and vegetable roasted corn chowder, a super refreshing avocado, tomato and shrimp ceviche shooter with a delightful dash of Anise and a hearth roasted beef and plantain empanada. All of this was served up with Danza's own trio of barrel sampled "2011 Viognier", their
NV Valdepenas
Tempranillo/ Grenache blend and their just released and always popular "2009 Grenache". If that gets your taste buds hopping then you have to check out
Chef Marty's cooking classes
, (I know I am) they always sell out, where he shows you his culinary magic! Needless to say, with all of this and JD Priest with his superb partner and wing man Matt Workman playing guitar and mandolin respectively on Led Zeppelin's "Going to California" it doesn't get any better! While we sitting on Danza's spacious patio on this seemingly perfect Summer day, we suddenly had a real hard time not just settling in and wiling away the day here, which by the way I would highly recommend anyone doing.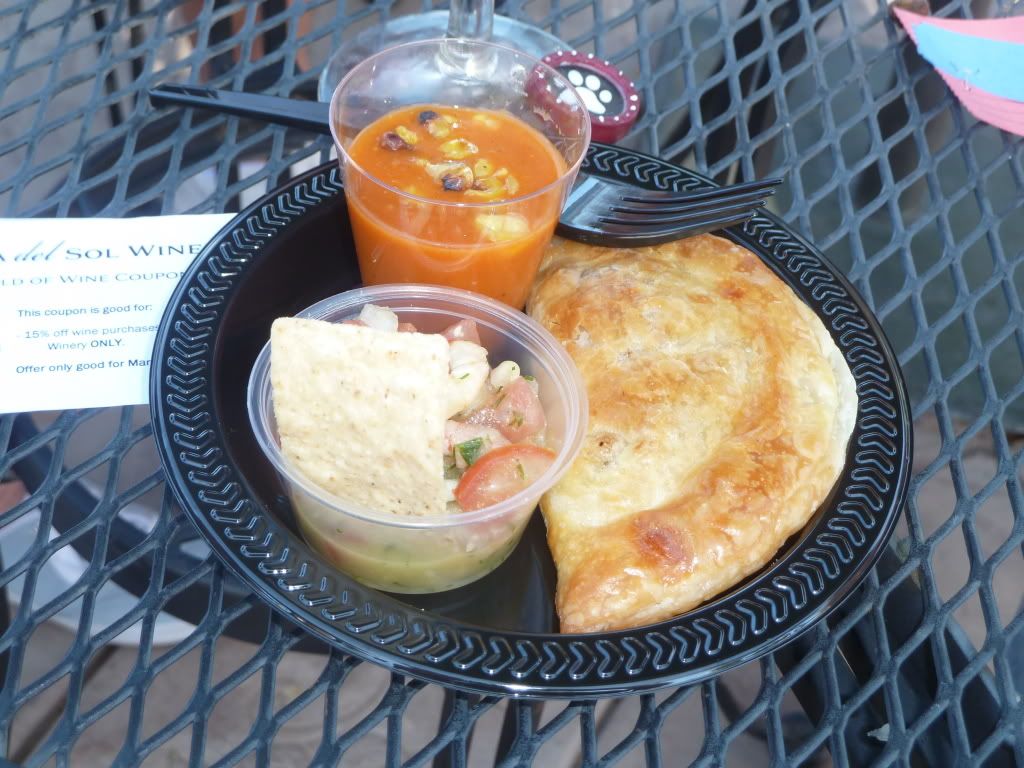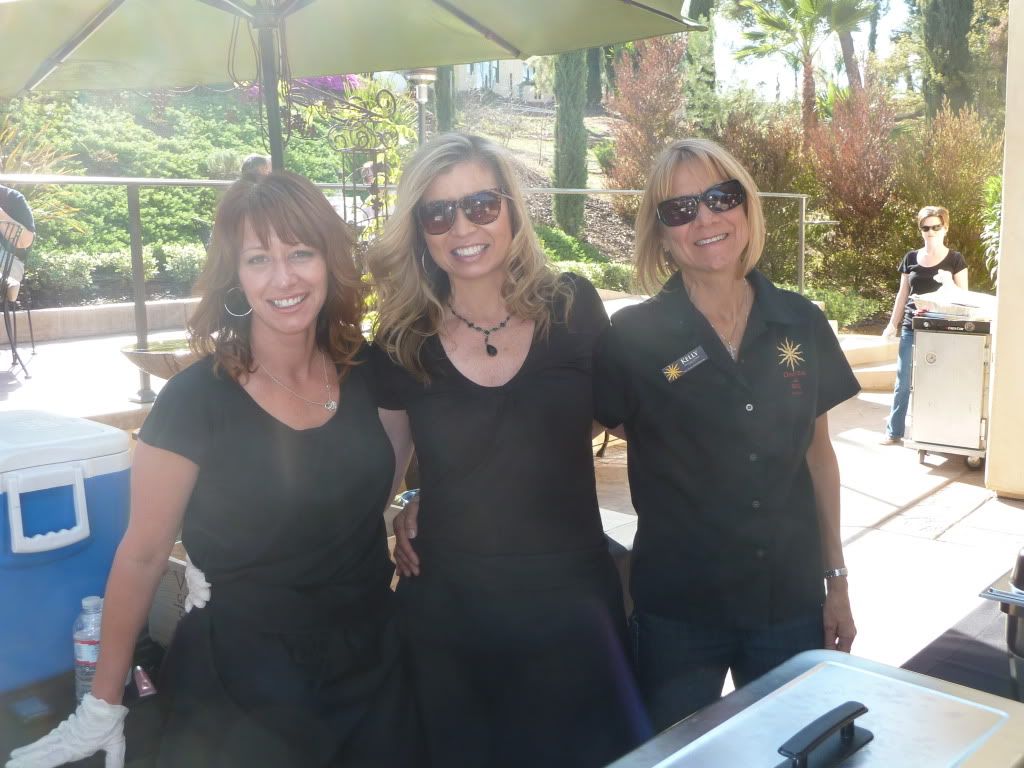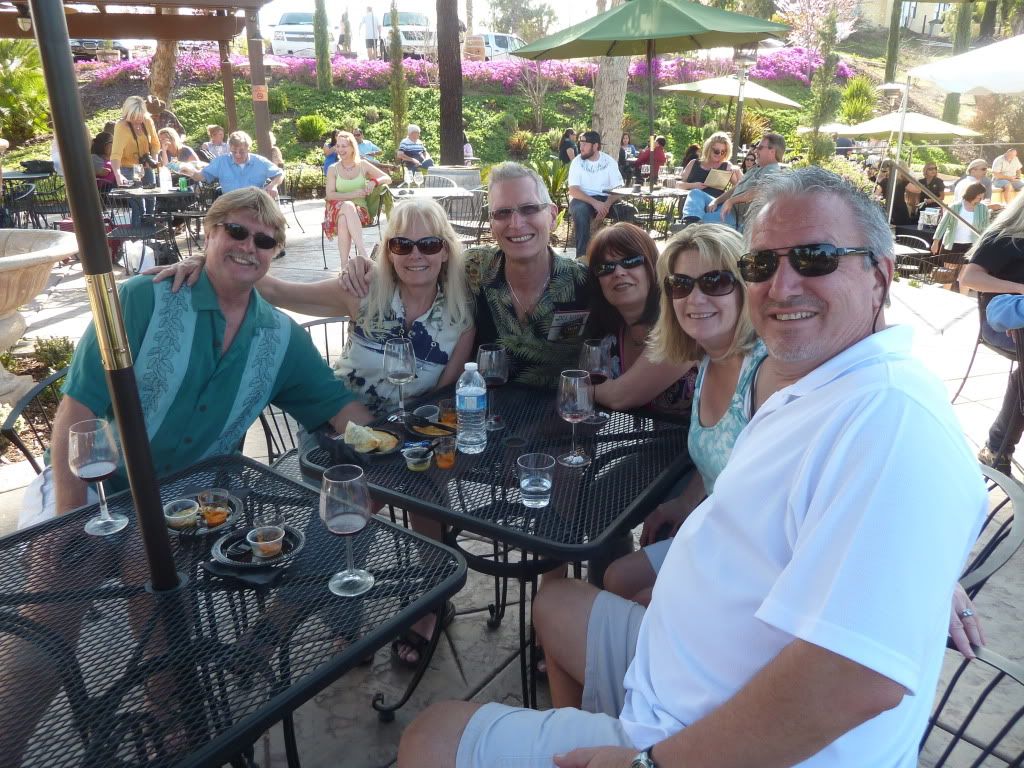 Speaking of settling in we also had a very, very difficult time leaving Miramonte which served up their own brand, 2.0 style of WOW. They featured on their expanded and extremely welcoming patio a duo of smoked trout mouse on rosemary foccacia square topped with micro fennel and a Syrah marinated slow roasted pork loin with a blackberry demi-reduction served atop herb infused orzo pasta. This was all deliciously prepared by another of our culinary favorites Chef Volcker's "Vineyard Gourmet Catering". Not to beat by the food, this was mated with one of my local "Go To" favorites in wine country, MM's
"2007 Bin 33410"
a superb Rhone blend which delivers all the way form the nose to the throat. In addition, WOW guests were served a real treat in the form of their signature and this time from the barrel, soon to be released "2009" Estate Syrah". MM's Estate Syrah or simply "The Estate" as they like to call it is what first got me to hang at Miramonte 1.0 over 7 years ago. With their new 2.0 and soon moving into 3.0 expansion and renaissance this is another great spot to mark away some serious time.
We finished up our first day on Sat. stop #14 by the way at one of our other favorites
Thornton Winery
home to their renown "Methode Champenoise" Champagnes. What a great way to wind down and charge up for the final day. Thornton always delivers and plays at the top of their game. They teed off with their award winning and famous for,
"2004 Brut Reserve"
which is a literal "party in your mouth" or "C'est Magnifique" as one of our groups members announced. Thornton's Executive Chef
Steve Pickell
hit a grand slam home run, (as I knew he would) with his "housemade" rigatoni bolognese and my personal favorite dessert of WOW, his banana split bread pudding or what I referred to as "Chocolate, strawberry banana split da bomb bomb!"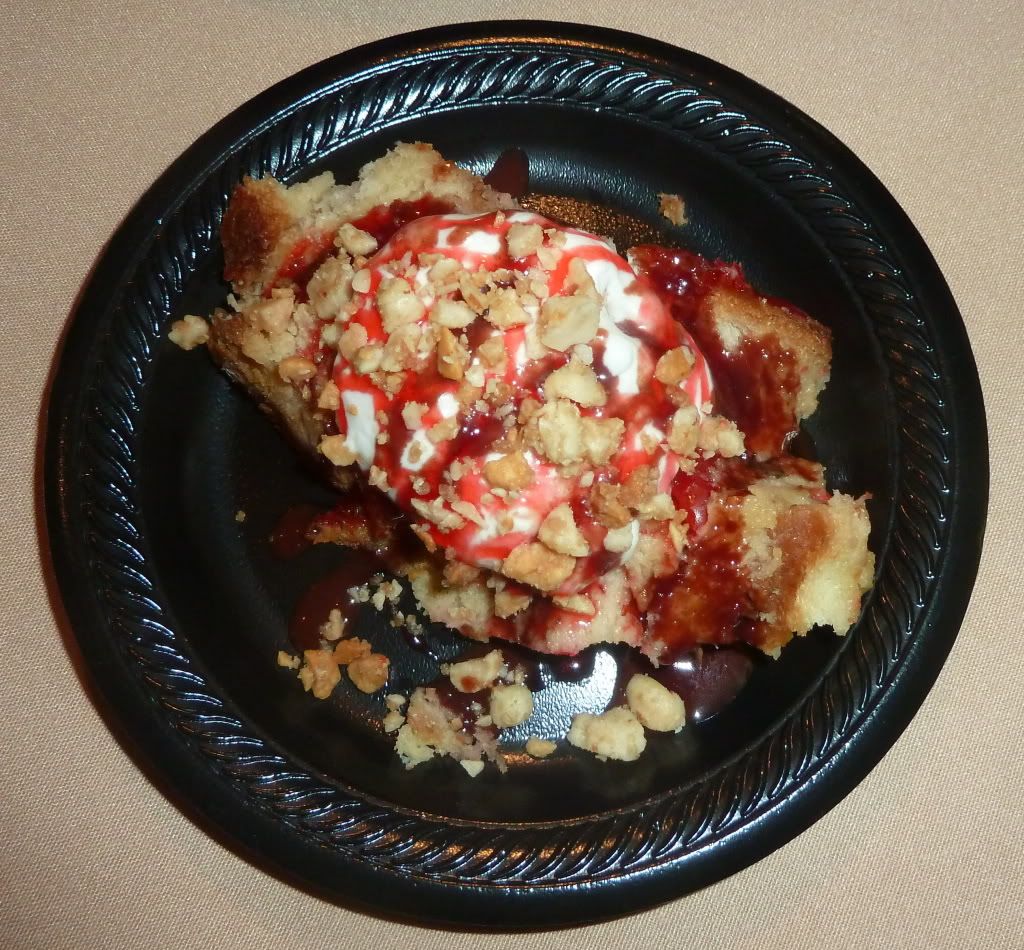 After lingering there for a while and yes I did have seconds on banana da bomb bomb (say that 5 times real fast), I can hardly wait for
"2012's Champagne Jazz"
to kick off. I do have to add that if you like your libations sweet, then you have to try out their sinful chocolate lovers flight, you won't be sorry!
We finished up our two day jaunt at another of my favorites. One that is very close to my wine-loving heart and that is Steve and Val Andrew's
Oak Mountain Winery
on DePortola Trail. Overall, OM is just plain tough to beat! It has a combination of wines and champagnes, more then I can keep track of actually and even frozen Wina-rita's on weekends. Along with its incredible vistas, live entertainment, super events and friendly staff, its simply that, when all mixed together as they do so well something unique and very special is created. Then when it's topped off with their standout wine club loving approach Oak Mountain is the epitome of what Temecula's wine country is capable of offering to it's visitors and locals. We settled in here to the classic rock n roll sounds of Michael Chain playing on their now enclosed all weather pavilion. We enjoyed the always wonderful cuisine of
"Temecula Catering's"
Chef Michael Cragg. They served another great soup creation, a homemade chicken dumpling with beech mushrooms in a herbes YUM! de Provence mushroom broth. Exquisite! It went fabulously with Steve's exclusive "2010 Estate Pinotage" right from the barrel. His just released "2009 Estate Pinotage" is going to be another of my "Go To" red wines in Temecula, however it is going to go real quickly, so you better get some fast!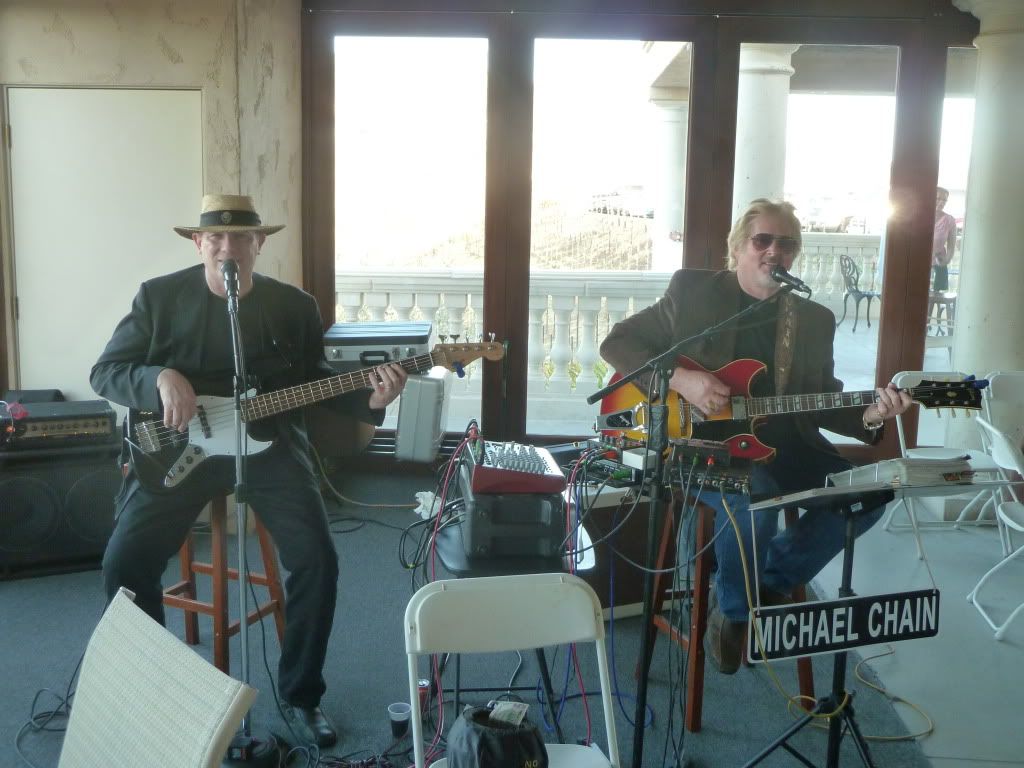 Honorable mentions and kudos go to
Keyways
where we started our second day. This is also where we found our other favorite white wine their
"2011 Albarino"
can you say, "Yes, Summer is almost here". It is a delightful lightly crisp citrus y release and was paired along with another of Volcker's always great creations a wonderfully seasoned seafood chioppini.
Frangipani
for their special make you feel you're in someone's home atmosphere, just kick back, enjoy and appreciate. And appreciate we did with their terrific, thoughtful and what turned out to be the only green salad offering of the weekend. His barrel "2008 Cabernet Franc" was much enjoyed and went great with Don's white polenta with sausage and fresh mozzarella. The salad was a BIG hit and he was running out as we were there. It was ideal with the weather. Sometimes there's just too much red sauce pasta in wine country and it gets old and tired. Some people need to step up their game a little bit, when you know what they're doing without even checking the menu, it's time to mix it up and do something different.
Palumbo
as I knew it would and as I had anticipated also shined. Nick's pairing of his luscious "60/40" Shiraz/Cabernet and cold fillet of beef with brie and toasted almond fruit compote on baguette chip was quite literally excellent! In fact in one sitting, it was truly a premiere micro example of what this whole weekend is about. In this one pairing alone we found ourselves using words like we did to describe the entire weekend, such as delightful, signature, summery, delish, unique and unforgettable.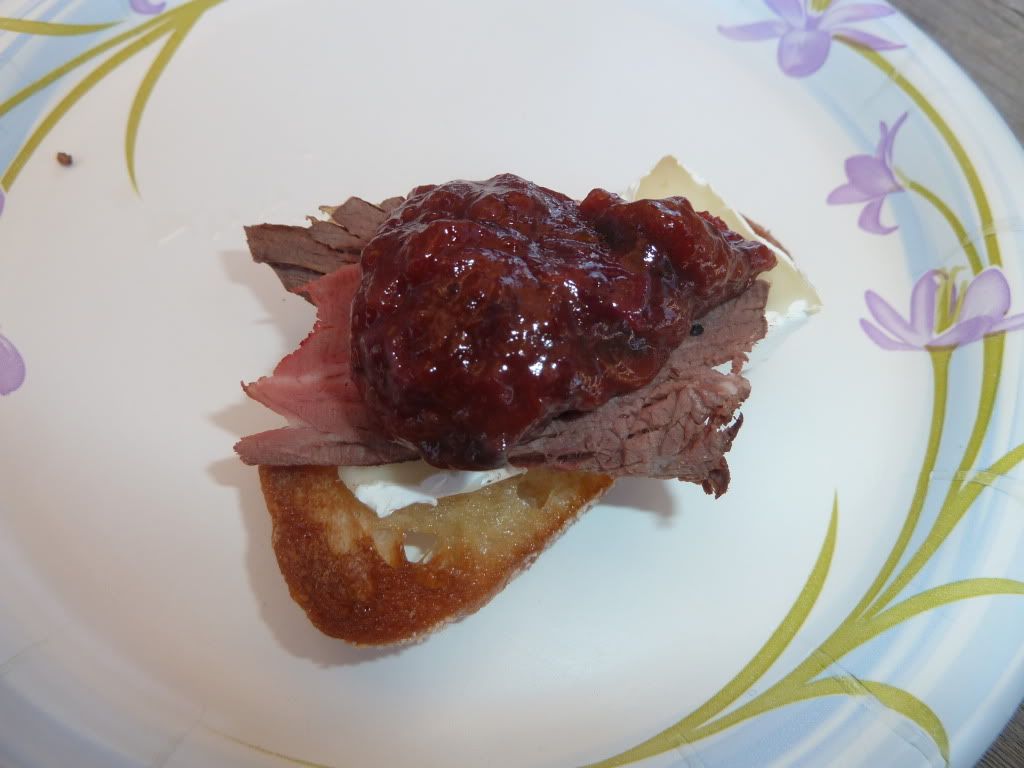 If you missed out on WOW, then you MISSSED out! For a $99 entry to an amazing variety of all our valley offers in wining and dining there is simply no compare. Thank you to TVWGA and its many volunteers for making this weekend one of Temecula's best. Yes, we didn't make them all this time, but that's OK that's really not what this weekend is about. This is a GREAT people meeting, get your picture taken, wine and dine and all fine socializing event! Watch this great video below, Ginger does her usual awesome job and fills in the gaps I have left out.
Your next chance for something this good will be TVWGA's Harvest celebration in November 2012 as our valley's vintner's celebrate putting this years crop in the barrels. Always a sell out! We'll be there, we hope you are too...

Click below to get your tickets...Available soon.