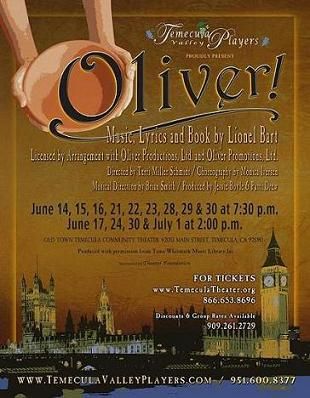 Reviewed by
Loren Scott
The Old Town Temecula Theater is currently playing host to the Temecula Valley Players production of "Oliver", Lionel Bart's stage musical adaptation of the classic Charles Dickens' book, "Oliver Twist".
Directed beautifully by veteran stage director, Terri Miller Schmidt, and brilliantly choreographed by her fellow theater veteran, Monica Iverson, this was truly one of the most entertaining and well-paced TVP productions ever presented at this theater.
The story follows the adventures of a young orphan, Oliver (wonderfully portrayed and beautifully sung by 11 year-old E. Ramos), as he moves from one bad situation to another in search of happiness and a home. Along the way, he meets up with the Artful Dodger (Christian Winter) who pulls him into the band of pickpockets under the care and tutelage of an old man named Fagin (a character brought to life so amazingly by Russ Rappel Schmid). Other notable characters in Oliver's path include Mr. Bumble (Don Vecchione), Nancy (Sarah Cook), Bill Sykes (Winston Peacock), and Widow Corney (Sonia Watson) who were each brought to life in very entertaining and believable ways by their respective actors.
This reviewer will admit to suffering through a couple recent productions where the "stop and go" pacing or weak acting made it difficult to stay awake at times. This was not an issue with this production of "Oliver". The pacing of the dialog and stage movements kept the story moving and always entertaining. Director Schmidt is known for bringing out the best in her actors, and it shows -- this time juggling a cast of 40. Likewise, the creativity in Iverson's choreography, the costuming (by Ruthann Marlbrough and Schmidt), set design (by Mark McCullough and -- again -- Schmidt) and, of course, musical direction (by Brian Smith), were all key ingredients to making this show a success.
"Oliver" is running through July 1st at the Old Town Temecula Community Theater, located at 42051 Main Street, Temecula. Curtain on Thursday, Friday and Saturday evenings is at 7:30 p.m., Sunday matinees are at 2:00 p.m. For tickets, visit
www.TemeculaTheater.org
or call 866-653-8696.