Cellarz93 is Temecula's Ultimate Hot Spot!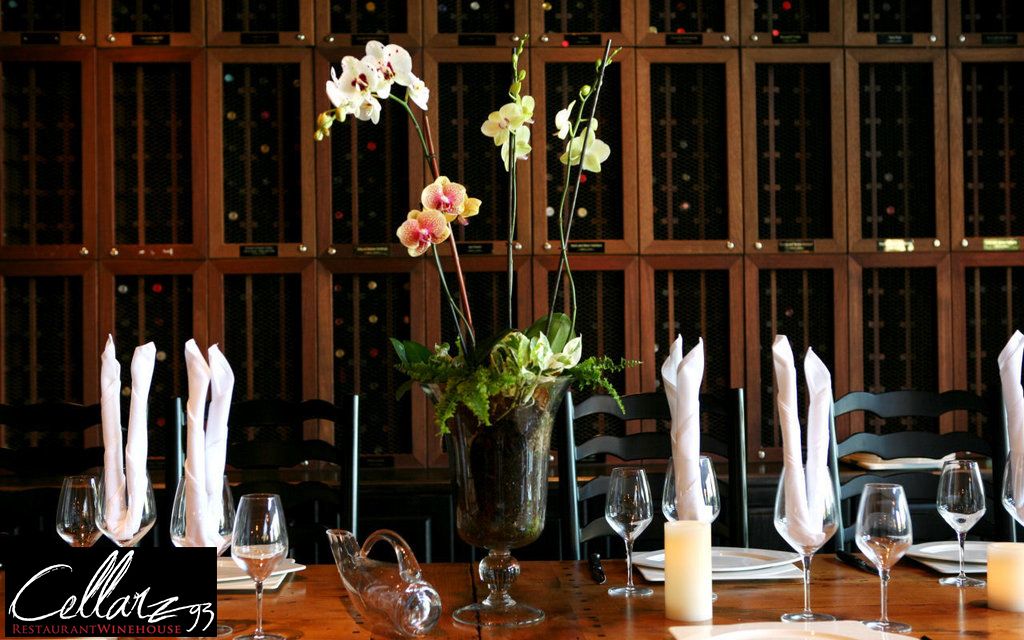 By Susan Montgomery for Temecula Night Out

Cellarz93, the newest spot for casual but sophisticated dining and drinking in Temecula, had its grand opening on Monday, October 29th. My husband and I were fortunate to be able to sample its food, drinks, and relaxed but decidedly upscale ambiance a couple of times in the last week. I have to tell you, we were literally blown away. I am actually still reeling from the experience.

There has never been a dining/drinking entertainment destination like this in Temecula. It will undoubtedly attract epicureans and wine lovers from far and wide, and is certain to build a devoted, enthusiastic local crowd as well.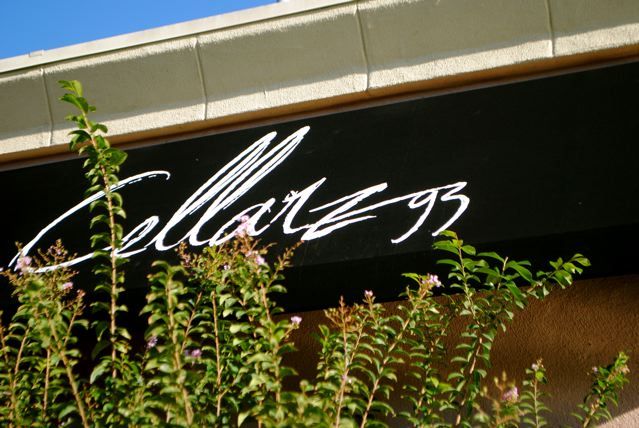 Situated at the former site of Harry's Pacific Grill at 41577 Margarita Rd. in the Bel Vellagio Plaza, Cellarz93 uniquely combines a five-star (at least that's what my palate told me), innovative cuisine, a friendly but elegant bar and lounge with changing top entertainment and a wine retail outlet boasting over 250 carefully chosen labels from all over the world in addition to local favorites also.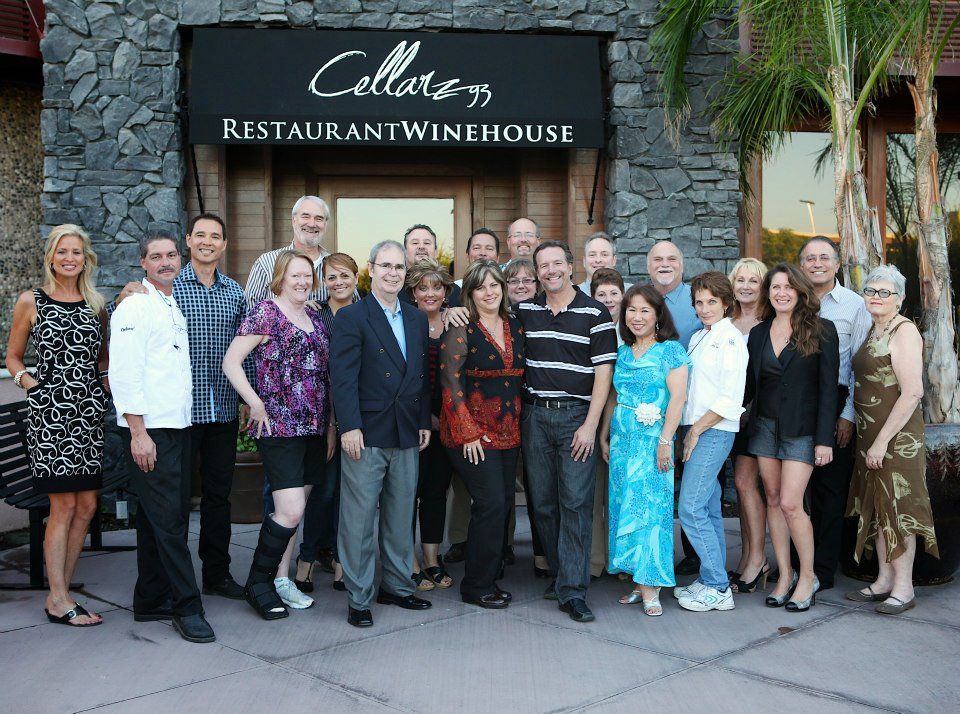 Owners are a Local Group of Investors


This new venture is supported by a group of mostly local investors who together have obviously made a substantial investment in remodeling the 7500-square-foot-space, turning it into a warm but classy destination, accented by natural wood and comfy upholstered furnishings. Highlights include a state-of-the-art kitchen, a circular copper bar adjacent to a cozy piano lounge, and a majestic, handcrafted chef's table, made of distressed wood, that seats 12.
93 is a great Wine Spectator wine rating. If Wine Spectator rated restaurants, Cellarz93 would surely warrant a 93 or beyond.)

The shining star of Cellarz93 is its extremely talented kitchen staff led by their extraordinary chefs. They have a passion for presenting innovative dishes tailored to their customers' tastes and also featuring what they call a "global fusion cuisine," which taps into influences from all over the world. Most dishes on the menu also include suggested wine pairings.
Media Guests Enjoying the Best of Temecula

The Chefs talked with media guests on Wednesday night about their dedication to preparing outstanding food, primarily from locally produced, (approx. 95%) ingredients from such places as Crows Pass and Peltzer Farms.


Before the restaurant even opened, one of their chefs won the People's Choice Award at the Fifth Annual Oak Grove Center's Golf Tournament and Chef's Open held recently at the Pechanga Casino for his absolutely, (best ever) Crab Cakes. Oak Grove Center, located in Murrietta, is an educational and treatment facility for children at risk.

Cellarz93 philosophy is very simple "Through good food they believe they can make good things happen."

They certainly made not good, but incredible things happen with the dishes we were served during our recent visit. Here is just a sampling of what awaits hungry and discriminating guests at Cellarz93: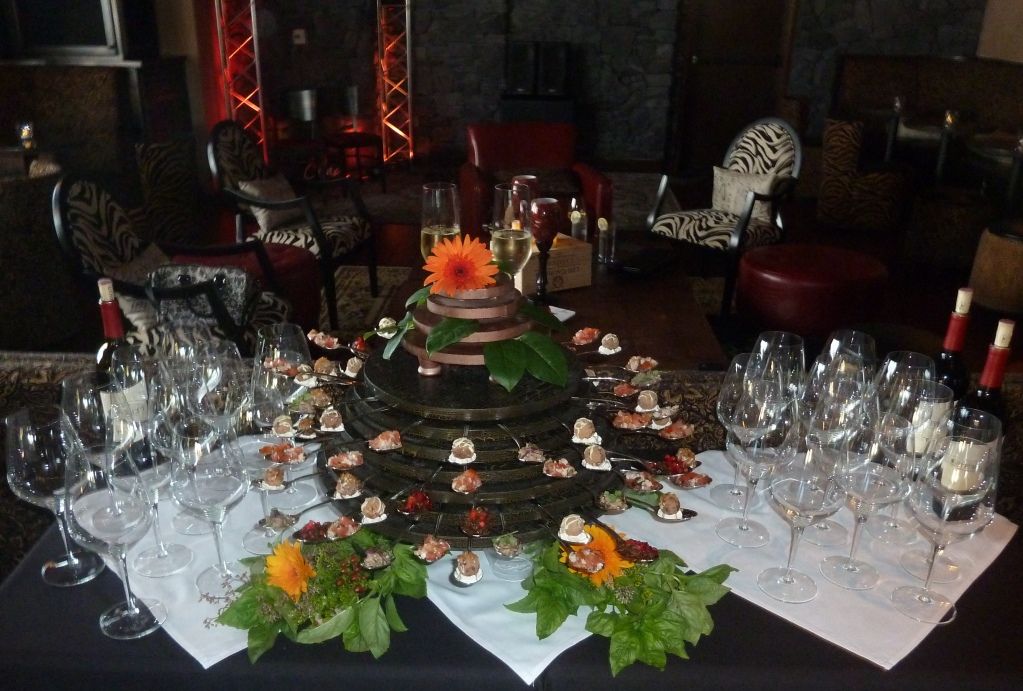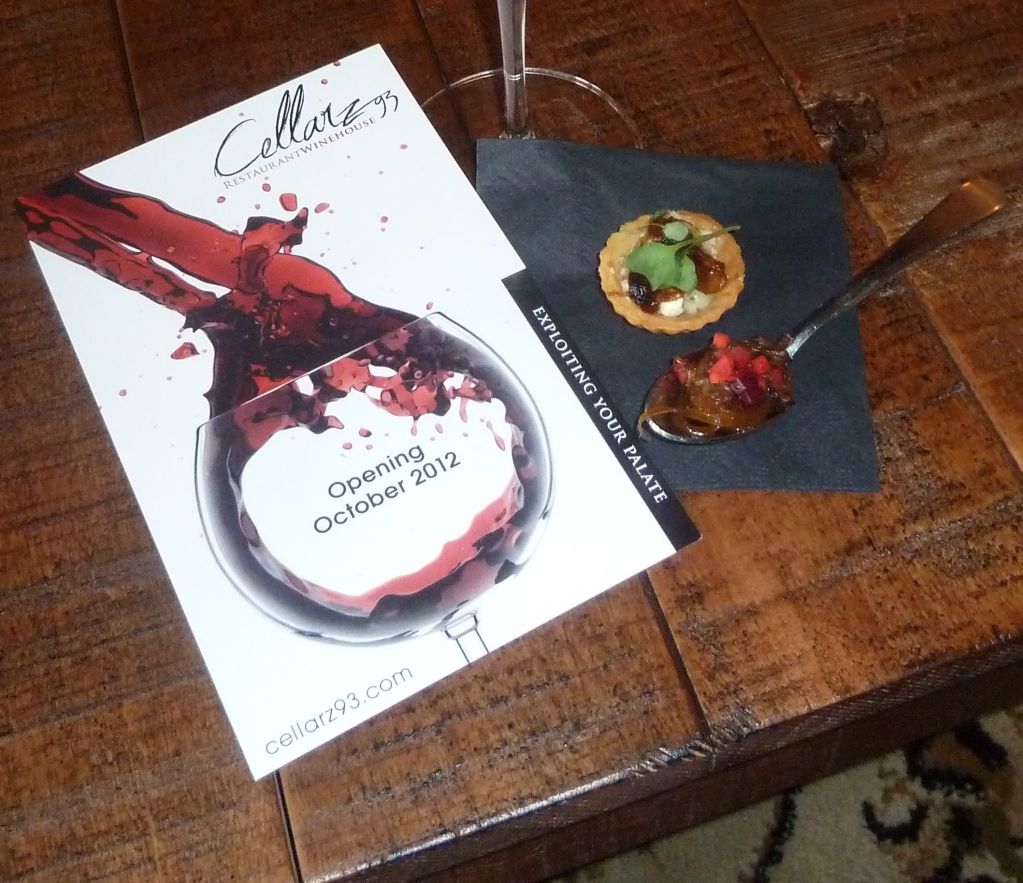 Amazing Assortment of Spoon Size Appetizer Bites


As a prelude to the evening, we started with an assortment of spoon held appetizer bites that were a sampling of heaven in one nice sized bite!
We then continued with tray passed Chorizo Stuffed Medjool Dates, which were wrapped in bacon and drizzled with hoisin sauce. They were delicious and different than any other stuffed dates I had tasted in the past with their sweet and salty mix of flavors and yes... Bacon!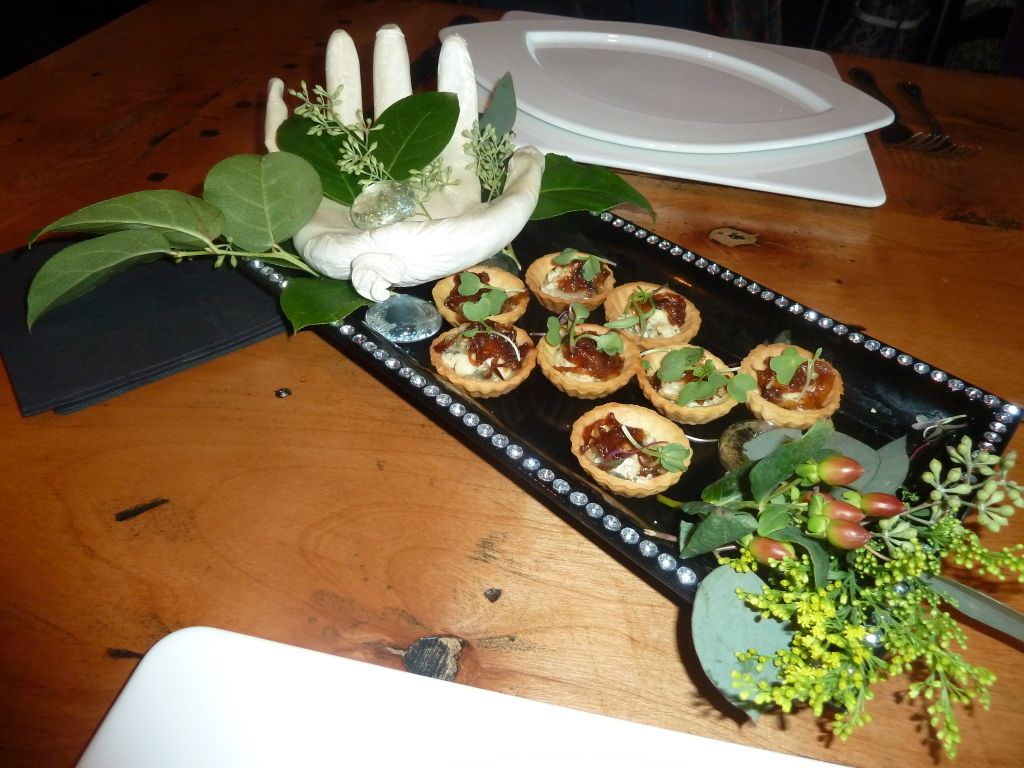 And the Culinary Delights Just Kept Coming


We also enjoyed Warm Humboldt Fog and Scallion Tartlets topped with a savory tarragon crème. These delectable treats tantalized our taste buds and went well with the champagne and white wines several of us were sipping.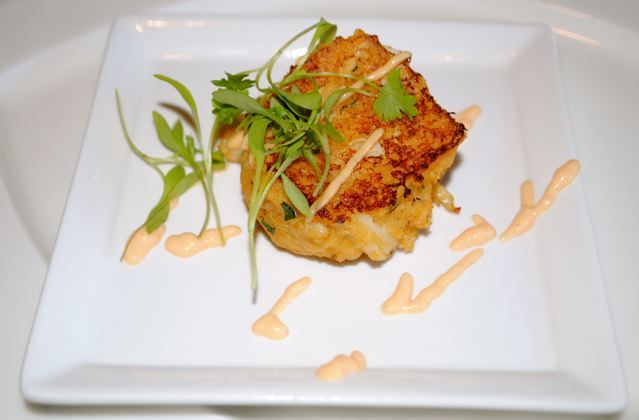 The BEST Crab Cakes Ever!!
From my perspective, the highlight of our mini feast was Cellarz93 award-winning crab cakes drizzled with spicy aioli and ginger sauce. Several guests, myself included, made the amazing claim that these were the best crab cakes they had ever tasted. I personally love crab cakes, order them frequently and modestly consider myself a bit of a crab cake connoisseur. Quite simply, I have never had such wonderfully taste bud seducing crab cakes, perhaps because they were made almost exclusively with the highest quality Alaskan crab without all the other usual ingredients that sometimes gets mixed in.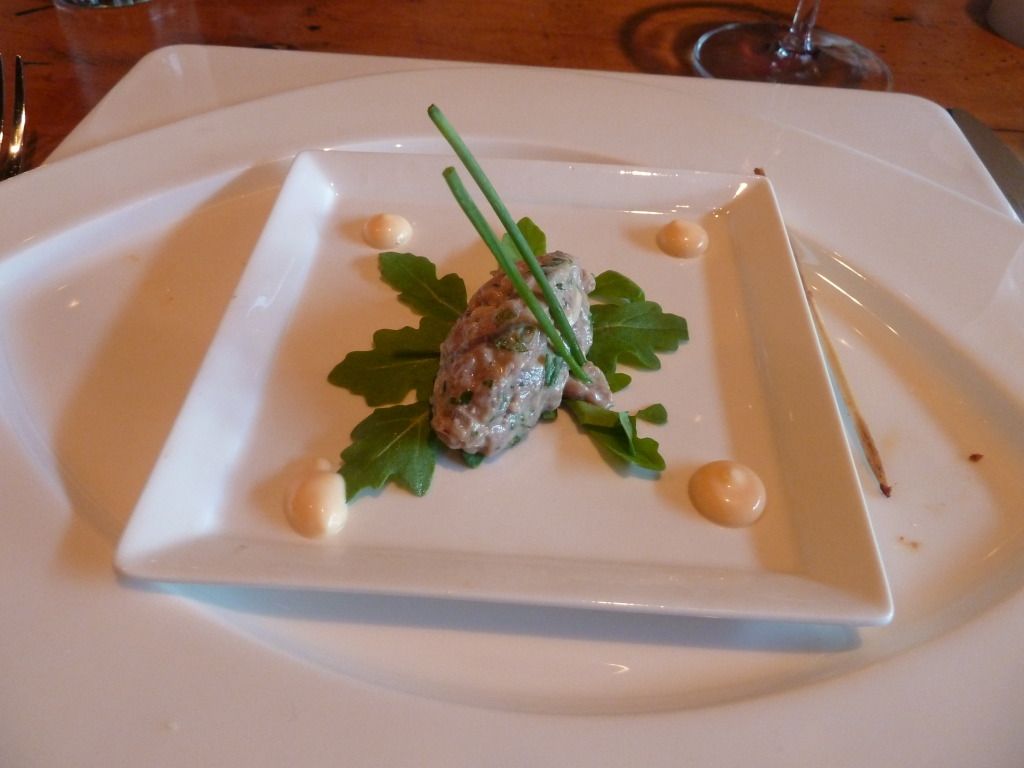 More of Cellarz93 Culinary Wizardy - Beef Tartare Napoleon
Next we were served Beef Tartare Napoleon with roasted garlic sauce on a seasoned crostini. This delicious appetizer literally melted in our mouths with perfectly seasoned, tender top notch beef, enhanced by the rich bold red wines many of us were drinking. The selection of wines at Cellarz93 is just superb; every wine lover is sure to find a favorite.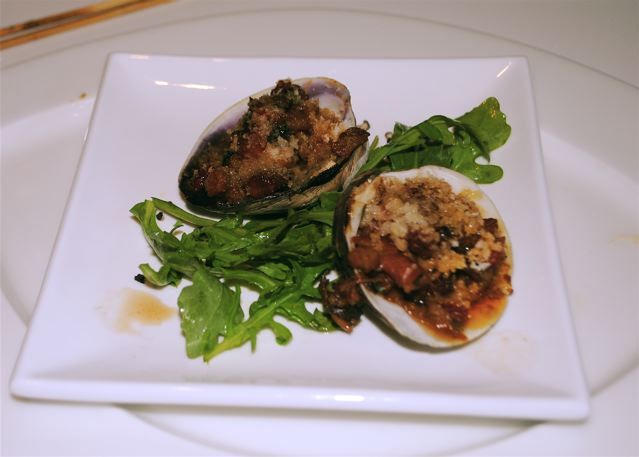 Clams Casino93... A Taste Explosion!
The most unique treat of the evening were the Clams Casino93, an innovative take on a traditional dish. I'm not even sure what all the ingredients were in this crunchy dish, accented with pancetta and attractively served in half shells, but for a person who rarely orders clams, I loved it.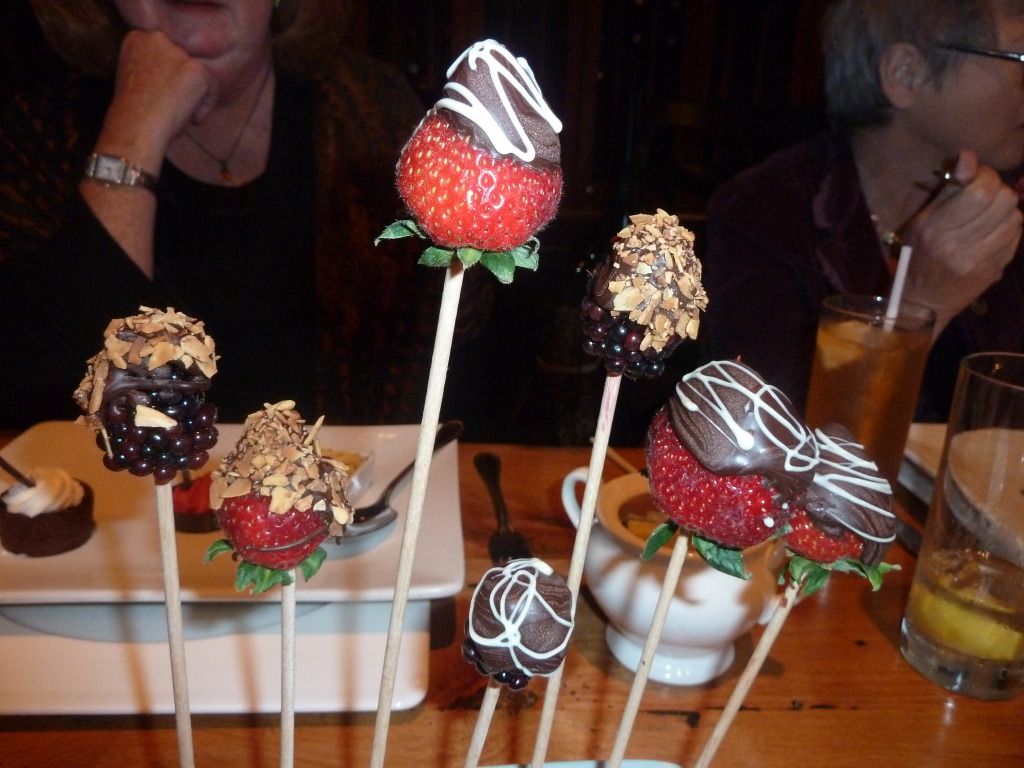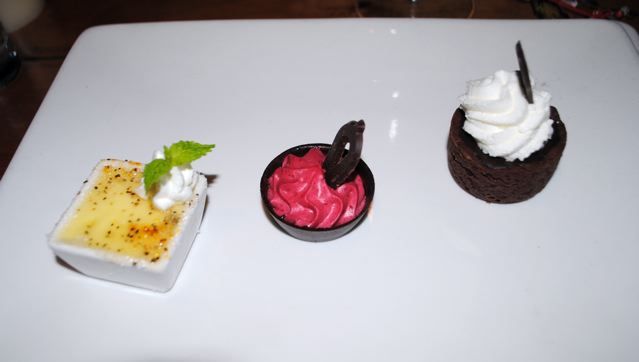 Sweet Decadence - Deserts Beautiful and Delectable!
As an encore, we were served a fun and quite gorgeous display of chocolate covered blackberries and strawberries and a trio of luscious dessert samples, including a spicy crème brulee, a sorbet in a chocolate tart, and a chocolate and raspberry liquor cake.
An appealing feature of the exquisite food served at Cellarz93 is that options are available in all price ranges with entrees running from $15 to $40, but many less expensive smaller dishes are also available. For many entrees, you can even order a "demi" or half-size portions.
After dinner, we adjourned to the bar where I topped off the evening with a perfectly crafted lemon drop martini. The vibe at the bar was contagious with all kinds of interesting folks networking, sharing stories, and mainly extolling the many virtues of Temecula's new place to connect over great conversation and outstanding food and drinks.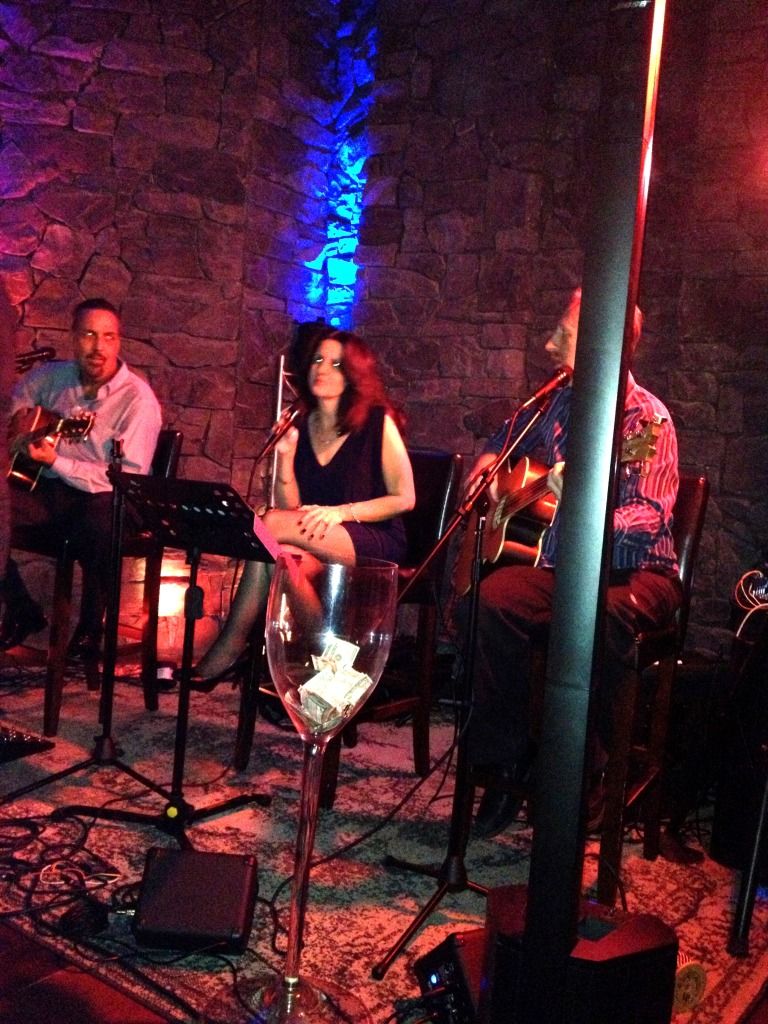 Top Notch Entertainment in the Luxe Lounge
Cellarz plans to have high-end acoustic bands performing classic and original rock regularly in the lounge, which will only add to the already contagiously congenial atmosphere. Stay tuned to Temecula Night Out for updated listings of the groups that will be playing.
Cellarz93 is now open daily at 11am for Lunch till 2:30pm and then for dinner 5 to 9 p.m. and Friday and Saturday until 10 p.m. However, the Club93 Luxe Lounge is open until 1 a.m. on weekends. Reservations are recommended. Call 951-296-9700.

Photos courtesy of Todd Montgomery and Ken Barnes
About Sue Montgomery
Sue has been a writer, editor and publishing consultant throughout her career. She has primarily written about business, healthcare, and the arts, but now, since moving from Wisconsin to Temecula early in 2011, she has expanded her focus to include travel writing about this wonderful destination. She most recently wrote two artists' biographies published by the Museum of Wisconsin Art. Susan and her photographer husband, Todd, have also produced a well-selling photo gift book called What Really Matters Now. In addition, they have several more books underway. Susan has a Master's Degree in Journalism from Marquette University in Milwaukee. She is a member of the International Food, Wine & Travel Writers Association. She recently became the Riverside Food and Wine Columnist for Examiner.com and she sits as a member on the board of directors for Dorland Mountain Arts Colony
Comments