Oak Mountain Winery
Location & Contact:
36522 Via Verde
Temecula, CA 92592
951-699-9102
Email Us
Visit our website
Visit our other website

Description:
Be Sure To Read... " Identity Crisis At Oak Mountain...NOT!"

Click HERE For Exclusive "Seize The Deal" At Oak Mountain...

Click Here For Hot Topic - A Cooking Class Among The Vines...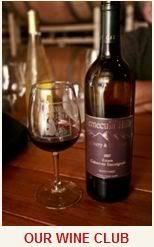 Join Oak Mountain's Wine Club and Enjoy Their Exclusive Wine Club Pick-Up Parties! (Click Above Image)

Watch The Beauty That Is Oak Mountain Winery In The Video Below.

Oak Mountain Winery is an oasis of Temecula Valley charm...




The picturesque hillside vineyards are planted with the classic Bordeaux varieties Cabernet Franc, Merlot, Petite Verdot, Malbec and Cabernet Sauvignon. Also planted are some unique varietals such as Counoise.

Our wines are a true reflection of this very special place. Our Temecula vineyard has a relaxed, classic beauty that is timeless.

We are the only winery in Temecula that houses two wineries under one roof. Wines from both Temecula Hills Winery and Oak Mountain Winery are tasted and sold from our Oak Mountain Winery location.

Both of these Temecula wineries are owned and operated by Stephen & Valerie Andrews. Stephen is also the winemaker. They can be seen most every weekend pouring wine at Oak Mountain. Sometimes you can even talk winemaker Steve into doing a barrel sample.

Our friendly staff can not only help you with your wine needs but also with local accommodations. Come visit us seven days a week.


Our barrel room is open from 11:00am to 5:00pm to taste our award winning wines and you can picnic in our Vista Pavilion which is cool in the summer with mountain breezes and warm in the winter with it's beautifully crafted fireplace.
Oak Mountain and it's Vista Pavilion has a commanding view of hillsides of vineyards surrounded by picturesque mountains. Our 2,500 square foot tasting room is one of the finest in all of Temecula Wine Country.
The Andrews expect that both the Oak Mountain Winery and the Temecula Hills Winery will produce 6500 cases this year of Award Winning Wines.
Hours:
Monday: 11am-5pm
Tuesday: 11am-5pm
Wednesday: 11am-5pm
Thursday: 11am-5pm
Friday: 11am-5pm
Saturday: 11am-5pm
Sunday: 11am-5pm
Report incorrect information