Old Town Wine Tasting Home Page www.OldTownTemecula.com
Location & Contact:
Temecula
,
CA
951-760-8981
Email Us
Visit our website
Description: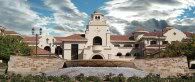 ~Click

HERE

For Today's Old Town Events & Specials~

LODGING
DIRECTIONS LOCAL HISTORY FAMOUS RESIDENTS
See All There Is To Do In Historical Old Town Temecula...



Preserving Temecula's Old West heritage and charm has been a success as the beautifully restored Old Town Temecula has become a favorite spot for one-of-a-kind shopping and exploring with antique dealers, art galleries, exclusive boutiques, museums, unique dining, weekly Farmer's Market and special events year round.

In Old Town Temecula you'll find that elusive piece of art you've been looking for or that unusual and tasteful gift for the person who has everything. Or, take in a show at The Old Town Temecula Community Theater or The Merc Theater and finish a perfect day with an outstanding meal from one of the excellent Old Town restaurants and lounges.

History buffs (

Watch the brief Old Town Temecula History video below

) can wander the streets of Old Town Temecula viewing rustic buildings, sidewalks and storefronts reminiscent of our historic golden west in the 1880's.

Old Town Temecula has been around since 1882 when the California Railroad came through the valley and local investors created the first Bank. Old Town still retains many of it's original historical features... Such As...


Every month on the 4th Saturday come and see

Old Town Temecula Gunfighters

at "High Noon" and 2pm "Shoot It Out" on the corner of 4th & Front Street.
(January thru October)...




A Brief History of Old Town and Video...

Temecula was established in 1859 and boasted the first inland post office in California that same year. It sat in the Wolfe Store in Old Town on Front Street. The wooden planks on the sidewalks were originally put in place to protect the long skirts worn by ladies at the time from the mud...
What is still the Palomar Inn was built in 1927 in what was considered a "suburb," and is not the oldest local building in Old Town. Buildings closer to Main Street were among the first to stand in Old Town, and some of them have rich histories. For example, Rose's Cantina is the 1884 site of the Temecula Inn, where locals served alcohol illegally.
Another surprising fact about Old Town? Many of the older-looking buildings are fairly new, meant to match the historical style, thanks to a group known as the Old Town Review Board. That old wooden water tower along Front Street?... "About 25 years old," says Moore, a Temecula Valley Musuem Historian. Temecula resident Sandy Mac Adams said the city's goal to maintain the look and feel of yesteryear is what she appreciates most about the area.


Watch This Brief, Informative and Fascinating Video of Old Town Temecula...




Visit The Temecula Valley Historical Society

Here





iPhone Self Guided Wine Walking Tour of Old Town Temecula

Click Here


by

Linda Kissam








Old Town Temecula Candlelight Walking Tours...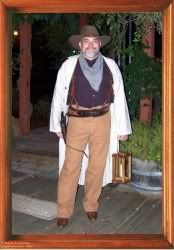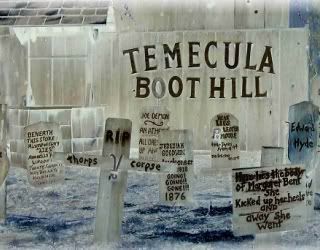 Your Old West guide will take you on a journey into the past to the historic "Boom Town" days of the 1880's. The 90 minute tour will take you into the Historic District where you will visit the oldest spots in Old Town Temecula.

Our tales and legends are blended with bits of human interest and historical fact, making them entertaining and educational for all ages.

Old Town structures stand silently watching over Front and Main Streets. The historic district is rich in folklore and "strange & mysterious" tales. Believers and skeptics will enjoy the comfortably-paced tour. Join us for a unique night-time tour in Old Town Temecula as your walk takes you winding in and out of the path of history...

Check The Walking Tour Schedule

Here

Report incorrect information